APPOINTMENT GUIDELINES
We are so happy that we are opening on Monday 12th April and cant wait to meet lovely brides-to-be.
Usually we love everyone popping in whilst passing, but because of government guidelines and to keep numbers down appointments are now essential, even if you are collecting your dress or accessories, or seeing one of our seamstresses.
As it stands restriction will hopefully be lifted on 21st June, but until then we have a few safety measures in place to keep everyone safe.
We are very lucky that we have a spacious boutique with a lovely cosy seating area for guests, brides will be able to bring 2 guests with them to their appointment, but should remain seated to allow for social distancing, these guests must be in your social bubble or from the same household. If you would like more people involved we have fast WiFi that can be used for facetime/zoom/wattsapp.
Facemasks will be required to be worn, we will be wearing them too, so please bring them with you to your appointment, but we do have some available if you forget.
When you arrive sanitiser will be available and your temperature will be taken.
If you or anyone in your party is feeling unwell please do get in touch and we can reschedule your appointment for you,. We must keep eachother safe.
For health and safety reasons we will not be offering teas or coffees but we will have chilled bottles of water should you wish..
All areas, including seating lounge, dresses and surfaces will be cleaned and sanitised before and after each appointment. Please arrive on time for your appointment, knock and we will let you in, you can park right outside the boutique.
We usually welcome all our guests with a handshake and a hug, but we will have to save that for another day, when it is safe to do so, hopefully in June.
We are so sorry about all these changes and restrictions, but we have to do it, but we thank you for being so understanding and patient, we will still make sure you get the bridal experience and fitting that every single bride deserves, lots of fun and loads of memories made.
If you have any concerns, please do not hesitate to contact us. You can call 01279 445556 or email: mel@enchantedbridalboutique.co.uk where we can put your mind at ease. and answer any questions that you may have.
Please do keep well and safe and we look forward to seeing everyone soon.

Here at Enchanted Bridal Boutique we have devoted passion and respect for all our brides-to-be and all visitors.

Our aim is make every fairy-tale dream into a reality, you will have a one to one bridal consultation as we wish to make every bride feel special and to be remembered in her wedding dress not just noticed in it, after all every wedding dress starts with a proposal and our proposal is to help you find your perfect dress for your perfect day.

If you have your heart set on 'that dress' then we will give you the full fairy-tale bridal experience with a sparkle of inspiration, as one of the most exciting parts of planning your wedding is shopping for your wedding dress.

We are committed to service, quality and reliability as we know that your walk down the aisle will be the memory of a lifetime and we would love to be part of that special moment.

When it comes to style, price and collections we have something to suit every bride-to-be and we are committed to making you the most beautiful bride for your groom and your special day.

So let Enchanted Bridal Boutique make your bridal dreams come true and lets have fun doing so !.
Follow us on social media to see what promotions and events we have arranged for our brides-to-be throughout the year. We work very closely with our neighbours that also have converted barns at Crumps Farm, in Sawbridgeworth, so you can visit us all.
We look forward to meeting you all.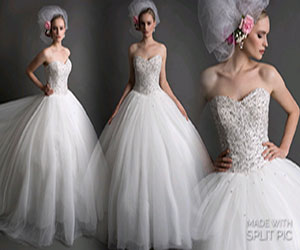 Dreaming of your fairy tale wedding dress, come along to a luxurious setting with a unique one to one service to find your perfect wedding dress.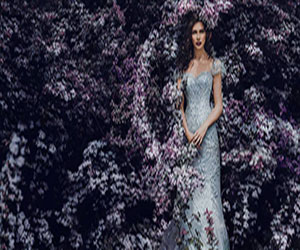 From your first consultation appointment through to your final fitting with our experienced seamstress you will receive our undivided attention.
We are based in Old Harlow, Essex, come down and visit our bridal store and try some dresses on? Please call us on 01279 445556.
Range of Designers
We provide a wide range of bridal dresses designed by various designers such as, Danielle Couture, Phillipa Grace, Phoenix Gowns, Pure By Romantica and Tres Chic By Romantica aloing with House of Nicholas, MIaMia We also have a wonderful Ready to Wear Collection which is great if you are running out of time, want a second dress or have a budget.
Range of Accessories
Accessories are the final addition on any bride-to-be and you can choose from a great range here at Enchanted Bridal Boutique. Some of our accessories are designed by Richard Designs, Starlet Jewellery. Ivory & Co.